Shoulder Pain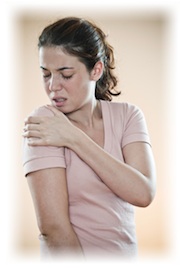 Lennard Funk

Pain in the shoulder area can have numerous causes and originate from many structures. The type and distribution of the pain is helpful in determining the origin and cause of the pain.

Types of pain:

Burning pain = nerve pain
Aching pain - bones or joints
Aching after activity = muscular
Sharp, stabbing pains = structures catching against each other (such as impingement or labral tears)
Area of pain:

Most people think the shoulder is in the area between your neck and top of your arm (see figure 1), however pain from your shoulder is actually felt in the upper arm and can radiate down your arm.
Pain originating from your neck is usually felt in the area between your shoulder and neck.
Pain behind your shoulder blade is often either from your thoracic spine or conditions of the shoulder blade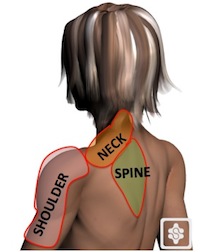 Specific narrow areas of pain are shown below. These are the acromioclavicular joint (ACJ), sternoclavicular joint (SCJ) and biceps: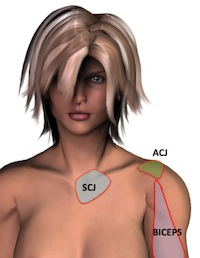 Common shoulder pain patterns
From our study published in 2011 (click here) we found the following pain patterns with the common shoulder disorders:

1. Impingement syndrome

Sharp pain around front of shoulder and down back of arm
Dull aching pain radiating to hand anteriorly
Burning pain anteriorly
2. Rotator cuff tear

Sharp pain around back of shoulder and down front of arm
Dull aching pain similar pattern to sharp pain
3. ACJ pathology

Stabbing pain centred over anterior and dorsal shoulder, with no radiation down arm
Dull aching pain around dorsal aspect
4. Glenohumeral arthritis

Sharp, shooting, burning and dull aching pain affecting entire arm, from shoulder to hand
---
The labrum is a firm, white structure that forms a ring around the glenoid cavity (the cup of the ball and socket shoulder joint). It deepens the socket, providing stability to the joint.
at the front; in front
Acromio-clavicular Joint - the small joint at the top of your shoulder. A firm lump that you can feel.

Print page

Email article



Bookmark this page:



Tags: [Clinical] [View tag cloud]