LHB Tendon Rupture
The biceps may rupture at the top of the bicipital groove in the shoulder or at the biceps tuberosity in the elbow. Click here for bicep ruptures at the elbow.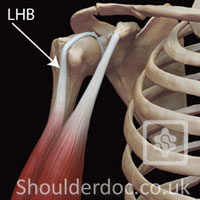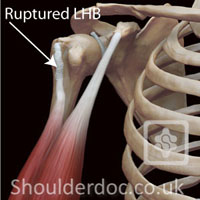 There are two ways in which the Long Head of Biceps (LHB) tendon may ruptures at the shoulder:
1. LHB rupture with a Rotator cuff tear:
With large cuff tears in elderly people the LHB tendon may tear also. There is often a relief of chronic shoulder pain when the tendon ruptures, since the partially torn tendon is often the main cause of pain (see biceps tendonitis). This rupture is equivalent to a natural tenotomy.
2. LHB rupture without a rotator cuff tear:
This type of rupture usually occurs in weightlifters in the gym attempting to lift a heavy weight. When the bicep injury occurs, pain is instant and you might hear a "pop" sound. Bicep injury bruising will follow soon after. This results in a 'popeye' deformity and weakness of the biceps. A biceps tenodesis is often required.

Ruptured right LHB with Popeye sign biceps (arrow)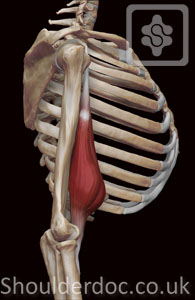 The surgical cutting of a tendon
To fix a tendon to a bone
a structure (tissue) that attaches a muscle to a bone. When a tendon becomes inflamed, the condition is referred to as tendinitis or tendonitis.

Print page

Email article



Bookmark this page:



Tags: No tags defined for this article. [View tag cloud]