Shoulder Tendons
Tendons are extensions of muscles that attach muscles to bone. Muscles move the bones by pulling on the tendons.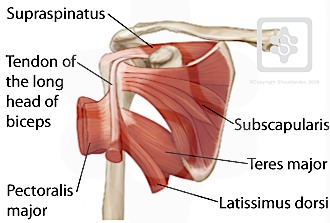 ---

Rotator Cuff
The rotator cuff
tendons are a group of four tendons that connect the deepest layer of muscles to the
humerus
. They are the tendons of the rotator cuff muscles.
These are (from front to back):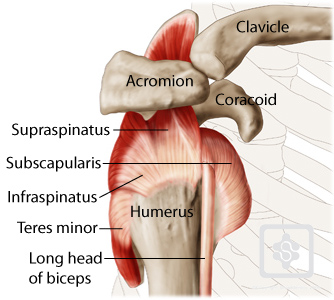 The supraspinatus is the most commonly affected
tendon
, both by overuse and trauma. It is the muscle that lifts your arm out to the side (a very important movement for most daily taks). Injury to the tendon can result in a
Rotator Cuff Tear
. Overuse can lead to
Subacromial Impingement
.
---
Biceps Tendons
The biceps muscle has two tendons at the shoulder, called the Long Head and Short Head.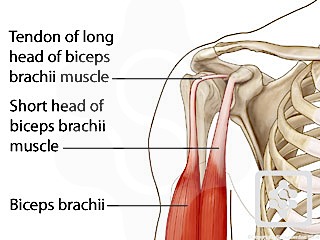 The Long Head of Biceps (LHB) is a very important tendon that travels through the shoulder joint (glenohumeral joint). The biceps tendon begins at the top of the shoulder socket (the glenoid) and then passes across the front of the shoulder to connect to the biceps muscle. (The biceps is the muscle that weightlifters are always showing off).
The LHB is a common source of shoulder pain and can rupture. Click Here for more.
---