Pro Rugby Player - Shoulder Stabilisation and AC Joint Reconstruction
Pro Rugby Player - Shoulder Stabilisation and AC Joint Reconstruction
A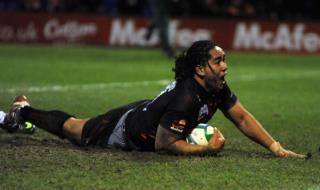 nother professional rugby player to benefit is Samoan centre Anitelea "Andy" Tuilagi. Len operated on the 22-year-old after he dislocated his right shoulder in Sharks away defeat to Munster in the Heineken Cup in January.
The six foot, 96kg centre required reconstructive surgery on his left shoulder and also surgery on an old AC joint injury to his right shoulder. Andy who is recovering well from the operation is targeting a return in the next couple of months and a push for the end of season glory with the Sharks in the Guinness Premiership.
"It was a horrible injury; I have never felt pain like that before," says Andy. "I was told that Len was one of the best surgeons around as he had worked on lots of Sharks players before, everyone recommended him to me.
"The injury happened in Ireland on the Friday and by Monday I was at the BMI and had the operation the same week. When Len saw me he decided to operate on both shoulders. I was in hospital for five days and everyone there was great, they made me feel really calm, I felt like I was in safe hands and I was very impressed.
"I have now got full range of movement in my shoulders and I am working hard with the physiotherapists at Sale and training non-stop - I think I have ten more weeks to go before I am back playing.
"I am looking forward to getting back out on the pitch and hopefully helping Sharks reach the play-offs and the final of the premiership."
Len's job doesn't finish when the players leave the theatre as the hospital works closely with physiotherapist and doctors at the club." My aim is to fix things rigidly and solidly then the players can begin the process of sports specific rehabilitation.
"We work with the physios and rehabilitation team at the club. Post-treatment, the input from professional athletes is very high in terms of rehabilitation. You can push them faster and harder than a normal person."
Mark Almond, Executive Director of BMI The Alexandra Hospital, said the partnership will enable his Consultants to develop research on the type of injuries that rugby players incur. "This may lead to improvements in training methods and tactics which may help to prevent these injuries occurring during their careers."
For Len, the greatest thrill is seeing players like Oriol and Andy getting back on the pitch and playing rugby.
"They are my babies - that is why I do it. There is nothing nicer than to sit and watch the TV or go to a match and see them playing again. In the Six Nations rugby I have at least two patients in every team and seven of my patients won Olympic medals - it makes me very proud".

---
Reproduced with permission from Live Cheshire Magazine, February 2009