Shoulder Simulation Training
Shoulder Simulation Training

As part of a commitment to education and training, we allow access to our state-of-the-art virtual reality arthroscopic surgical simulator for training, skills development, skills assessment and research. This is part of the development of a training facility for surgical and diagnostic skills. This facility is at Wrightington Hospital as part of the new Surgical Innovations Laboratory.
Training opportunities available (on request only):
Surgical Observation
Cadaver training courses (Wrightington only)
This is available at the Wrightington Upper Limb Unit and the Manchester Arm Clinic at 52 Alderley Road
It is available to clinicians, trainees, students, therapists and theatre personnel, who want to experience, practice and develop skills relevant to arthroscopic surgery.
---

Booking:
Sessions can be booked by contacting us here
Numbers are strictly limited.
Sessions are supervised by Linda Hallam (Assistant Surgical Practitioner) and/or Lennard Funk (Surgeon). You are welcome to observe Live Surgery also.
A training DVD and book are provided and certificates , as required.
---
Training Models:
1. Insight Arthro VR Virtual Reality simulator


This is a virtual reality computer training simulator for shoulder and knee surgery - similar to a flight simulator for pilots.
The simulator functions as a training tool, combining virtual reality and computer-assisted training techniques to simulate key aspects of arthroscopic surgery. It hones basic skills, reduces training times and considerably improves the learning curve in these complex surgery techniques.
It provides visual information and touch-based feedback, with realistic deformable anatomy , variants and common pathologies of the shoulder and knee.

The simulator provides a teaching sequence made up by a series of training modules of increasing difficulty, honing the necessary psychomotor skills for arthroscopy. These training modules are:

Basic skills , where trainee surgeons learn to hold the instruments in an ergonomically sound way and develop their camera and optic skills and triangulation abilities
Shoulder arthroscopy , where the specific modules allow students to learn the correct exploration of the glenohumeral joint and the subacromial space, recognize the different pathologies and treat them accordingly.

Each training module can be adapted to different degrees of difficulty (initial, intermediate, and expert), with hands-on practice of diagnostic arthroscopy and the chance to carry out more complex surgical procedures , such as subacromial decompression or reconstruction of the anterior cruciate ligament, and more.
The following diagram shows the different exercises available on the simulator ( click for large image ):

The system provides feedback and detailed reports , measuring smoothness of movement, accuracy, accidental damage to structures, tissue handling, time, etc. Thus allowing objective assessment of skills development and the learning process . The system records all actions carried out by users, keeping a track of their trend over time . It also conducts specific analyses to reduce learning curves in a verifiable way to personalize the teaching sequences.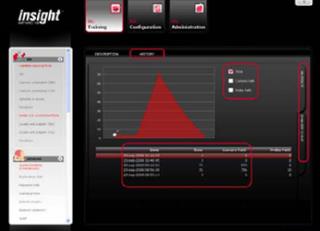 Uses for the simulator include:
A pre-conditioning tool for arthroscopic surgery
An adjunct to appraisal and revalidation
Training tool for Orthopaedic trainees and surgeons
Part of Trainee assessments (OCAP)
A selection tool for Orthopaedic training programmes
Training for company representatives selling arthroscopic instruments and implants.
Part of a surgical skills course
2. Alex Shoulder Model
The Alex Sawbone model is a commonly used model for practicing shoulder arthroscopic surgery. The model can be used for anchor insertion, suture passing and knot-tying. Our supervisors will provide training an feedback. Numerous anchors and sutures have been kindly provided by Orthopaedic companies (many thanks to Smith & Nephew, Mitek J&J, Conmed Linvatec)

3. Knot-tying and anchor bone models for arthroscopic knot tying and anchor insertion
These models are ideal for developing skills in arthroscopic knot-tying and also getting the feel for different suture-anchors prior to use on patients.. A supervisor will assist where required.
4. Office Ultrasound and Ultrasound Injection Model
Musculoskeletal and Shoulder ultrasound can be demonstrated and practised. An injection and aspiration model is available to develop and hone skills of ultrasound guided needle interventions.

---
Feedback from Previous Visitors:
Hi Prof.Funk and team,
Many thanks for the hospitality extended to me during my clinical visit last week.It was extremely helpful and has helpled me to get a better understanding about overall shoulder care.The shoulder skills station also is very beneficial for upcoming trainees.I would have no hesitation in recommending the experience gained to my colleagues in the region.Special thanks to Linda whose patience was clearly tested by my simulator time .
Thanking you again,
Shyam Kumar- Spr ,Mersey deanery
---
Related Articles & Bibliography:
Using Technology to help train surgeons of the Future - Funk - in Health Global Marketing 2009
Funk L, Umaar R, Awan A, Gandhi M. Computer Simulation Training for Arthroscopic Surgey.Tameside Medical Journal. 1(3):5-8. 2007.
M Gandhi & L Funk. An Apt Solution - Surgical Selection for Arthroscopic Surgery - Surgeons News, Issue 5.4. 2006 - Journal Link - Article
Validation of an internet-based preconditioner training tool for shoulder arthroscopy - R Umaar , M Ganghi, L Funk, 14th Annual Residents & Fellows Arthroscopy Conference, Useppa Island, Florida, USA, May 10th - 12th, 2007
Computer skills simulations as a predictor of aptitude and possible training aid for shoulder arthroscopy - M Gandhi & L Funk - Student Research Symposium, Royal College of Surgeons of Edinburgh - 13 April 2005
McCloy, R. Stone R. Virtual reality in surgery. BMJ 2001; 323: 912-915.
Pedowitz RA, Esch J, Snyder S. Evaluation of a virtual reality simulator for arthroscopy skills development.Arthroscopy. 2002;18:E29.
Gallagher, A. G. McClure N. McGuigan J. Crothers I. Browning J. Virtual reality training in laparoscopic surgery: a preliminary assessment of Minimally Invasive Surgical Trainer Virtual Reality (MIST VR). Endoscopy 1999; 31: 310-313.
Gallagher A, Satava M. Virtual reality as a metric for the assessment of laparoscopic psychomotor skills. Surg Endosc 2002; 16: 1746-1752.
Seymour, N. E. Gallagher A. G. Roman S. A. O'Brien M. K. Bansal V. K. Andersen D. K. Satava R. M. Virtual reality training improves operating room performance: Results of a randomized, double-blinded study. Ann Surg 2002; 236:458-464.
What is changing at MMC. http://www.mmc.nhs.uk/pages/about . Accessed 2006 July 14
Torkington J, Smith SG, Rees BI, Darzi A. The role of simulation in surgical training. Ann R Coll Surg Engl 2000;82:88-94.
Issenberg S , McGaghie W, Hart I, et al. Simulation technology for health care professional skills training and assessment. JAMA 1999;282:861-866.
Grenvik A , Schaefer JJ. From Resusci-Anne to Sim Man: the evolution of simulators in medicine. Crit Care Med 2004;32:556-557.
Lehmann KS, Ritz JP, Maass H, Cakmak HK, Kuehnapfel UG, Germer CT, Bretthauer G, Buhr HJ. A prospective randomized study to test the transfer of basic psychomotor skills from virtual reality to physical reality in a comparable training setting. Ann Surg. 2005;241:442-9.
Devitt J , Kurrek M, Cohen M, et al. The validity of performance assessments using simulation. Anesthesiology 2001;95:36-42.
Devitt J , Kurrek M, Cohen M, et al. Testing internal consistency and construct validity during evaluation of performance in a patient simulator. Anesth Analg 1998;86:1160-4.
Adrales GL, Chu UB, Witzke DB, Donnelly MB, Hoskins D, Mastrangelo MJ Jr, Gandsas A, Park AE. Evaluating minimally invasive surgery training using low-cost mechanical simulations. Surg Endosc. 2003;17:580-5.
---