Shoulder Replacement 1
Happy and Pain Free after Copeland Shoulder Replacement
Mrs. M Roebuck
I am a 59 year old mother of three grown up children and in 1964 I had a total colectomey due to ulcerative colitis. I first developed arthritis twelve years ago and have had various operations because of this, such as straightening of toes, two new thumb joints and a knee replacement. Although I was in a lot of pain because of my shoulder and was very restricted to the things that I could do, somehow I couldn't bring myself round to having shoulder replacement surgery. I found myself making up all sort of excuses not to have it done. I had at the time, finished work but had taken on the role of looking after my grandchild while her mother worked, so that was one excuse. I had committed myself until she was three years old and had started nursery.
In the meantime my pain was getting much worse in both shoulders but the right one was much worse. I also have spondilitis at the top of my spine, which gives me restricted movement in my neck. I thought I would try some physio to see if that would help and that is who told me about Mr. Funk. I decided to consult my GP who referred me to him. He took x-rays and agreed that I needed surgery. I plucked up the courage to have the operation, although it wasn't a case of being afraid, it was more a case of 'Would I be able to manage my ileostomy myself?' This seemed to be more of a problem to me, as you always think that you are the only person that has had this surgery, even though I know that there are others in similar situations.
Anyway, I now have my new shoulder joint and I am amazed that I was only in hospital for two nights. After one week I had slight physio and then after two weeks, different exercises to strengthen the muscles in the arm. I was determined to work very hard with the physio, otherwise it wouldn't have been worth having the operation at all. I was also surprised that there wasn't too much pain. I was expecting it to be much worse than it was. I was driving again 8-9 weeks later and within four months there wasn't anything that I couldn't do. I am amazed at the movement that I now have in my right arm. But most of all, I have no pain and only a small three inch scar. So all being well, I am looking forward to having my left shoulder done very soon. If anybody was considering having a replacement shoulder, and are a bit dubious, I hope my experience helps then.
From one very happy and pain free mobile patient.
Mrs Roebuck 3 months after surgery:
Photograph of the Surgical scar
(roll mouse over picture for close-up):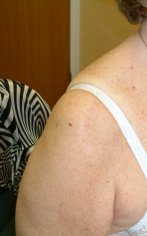 Video of Shoulder Movement
(Operated side is on the Right):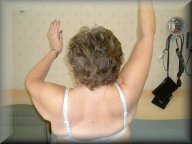 ---