Shoulder Arthroscopy
Nearly six million people a year go to the doctor's office for a shoulder sprain, strain, dislocation or other shoulder problem.
The shoulder joint is prone to injury since it is very mobile. Frequent overhead movements and sudden trauma can damage the tissues inside the shoulder. This can cause pain, tenderness, weakness, instability, and limitation of movement in the shoulder joint. Although symptoms, physical examination, and different types of X-rays and related studies can tell us a great deal about the nature of the problem, we often need to use shoulder arthroscopy to determine more precisely what is wrong.
The types of disorders that can be diagnosed with arthroscopy include tears, swelling, abnormal formations, detachments, loose fragments (loose bodies), and arthritis. However, arthroscopy cannnot diagnose all conditions, therefore, after a proper examination, we will be able to determine if arthroscopy is right for you.
THE OPERATION
Arthroscopy is commonly known as 'key hole surgery'. usually two or three 5mm puncture wounds are only required, avoiding large wounds and scars.
Most shoulder operations can now be done by arthroscopy, rather than open surgery.
Arthroscopic surgery has the following advantages over open surgery, since smaller incisions are made and there is less dissection to surrounding structures.:
1. Recovery is usually quicker after arthroscopic surgery
2. Post-operative pain is usually less.
3. The operations can be done as a Day case
4. There may be less complications of surgery
The shoulder joint is examined using a tiny telescope with television camera introduced through a small 'key hole'. This telescope and camera is known as the Arthroscope. It allows the surgeon to see the area where he or she is working on a TV screen. Through other small incisions, the surgeon can insert special instruments.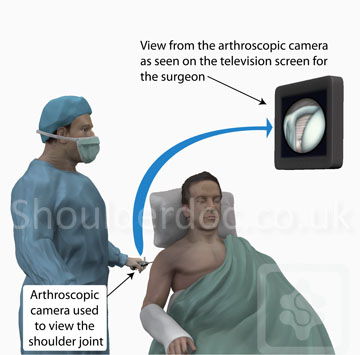 The position of the Arthroscope in the shoulder (left) and a view of the inside of the shoulder seen through the arthroscope (right):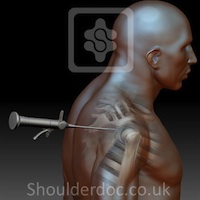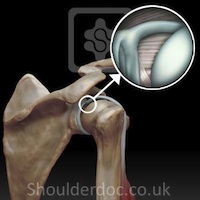 Video of normal shoulder arthroscopy:


GENERAL ADVICE
You should not eat or drink anything after midnight the night before the procedure. You will probably be able to go home the same day.
You will usually be in hospital either for a day or overnight. A doctor/physiotherapist will see you prior to discharge and you will be taught exercises to do and given further advice to guide you through your recovery.
You will be given a sling . This is provided purely to keep your arm comfortable. It may be taken off as much as you wish and discarded as soon as possible. You will be encouraged to use your arm.
You should be back at work between one and four weeks depending on your job.
Generally no stitches are used and the small dressings can be removed 5 days after your operation. At this stage the small wounds will have healed and you can shower or bathe normally.
Occasionally dissolving stitches may be used for larger wounds. If this is the case, keep the small dressings on for 10 days and the stitches can be removed or trimmed 10 days after your operation (by your GP or Practice Nurse), or when you return to clinic for review at 3 weeks.
If you have any of the following problems with your wounds please return to the clinic, your GP or A&E:
- Redness
- Pain not controlled with the painkillers
- Continuous bleeding or oozing from the wounds
- Infection
Also see the Shoulder Surgery Booklet
---