Pectoralis Major Revision - Bodybuilder
Pectoralis Major Revision - Bodybuilder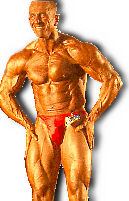 Hywel Edwards is a competitive Bodybuilder and underwent revision of a pectoralis major tendon repair in early 2005, following failure of the original operation performed in 2003.
Written 3 months after surgery:
" Bodybuilding became a massive part of my life when I started training back in 1992, starting off with a very small frame (approx 65kg), I made good progress over the next 2 years and competed in my first competition in March 1994 in Perth, Western Australia weighing in at 75kg and 4% bodyfat. I continued my progress through the 90's and had a very successful year in 1999, competing at 85kg, winning 2 local shows, the Mr. Wales, the Mr. Britain and finally coming 13th in the Mr. Universe in Germany.
Following my initial operation in 2003, I continued my training but knowing that something wasn't quite right I didn't seem to have the motivation and incentive. I therefore decided to compete once again, but as I was losing bodyfat the disfigurement became more and more apparent. Coming 2nd and 3rd in competitions that I knew I should be winning. It was then that I decided to make arrangements to have the operation again, an operation I was told by the first consultant which couldn't be done.
I turned to friends in Manchester that put me in touch with Stuart Cosgrove, who in turn recommended Lennard Funk to me.
From my first consultation I knew I had found someone capable of helping me get back on track. With no firm promises but lots of potential I decided to go ahead with the operation.
Since that day I haven't looked back. I feel that I have been given back 'my life' and I now have the chance of competing again.
Progress has been excellent with my pec, all the swelling has now gone and I'm left with a slight dip, approx 4cm from the operation scar. My objective now is to build up/back around this area, which I am doing at a slow but steady pace. I'm probably lifting about 70% of what I was lifting before the operation. Rome wasn't built in a day!
My left shoulder, bicep and tricep have made nearly a full recovery, probably 90-95%. I'm now planning to compete towards the end of next year, 2006, which gives me plenty of time to make a full recovery."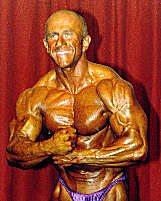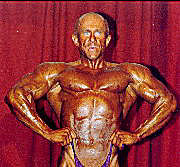 Taken in 1999, which was the last time I competed before the tear occurred in Jan 2003.



Pictures taken in the gym July 2004 - note asymmetry
---
Update March 2006 (1 year after surgery)
I went to Hong Kong on the 16th February and competed in the World Fire-fighter's Games on the 19th. I took Silver Medals in my weight class ( under 90kg) and also in the Senior Class (over 40yrs old). Should have won the Senior class but the decision went to a local guy from Hong Kong, much to the disappointment of the audience.
However, I was very pleased with the way I turned out and thrilled at the end result of my pec repair. Not one judge noticed that I had undergone surgery to my pec.