ACJ Dislocations
Acromioclavicular Joint Dislocations
The Acromioclavicular Joint is usually injured by a direct fall onto the point of the shoulder. The shoulder blade (scapula) is forced downwards and the clavicle (collarbone) appears prominent.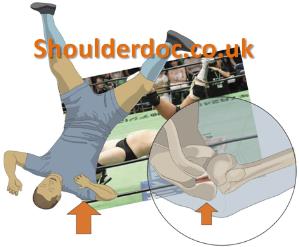 The degree of damage to the joint is classified by the joint displacement and injury to the ligaments which support the AC joint.: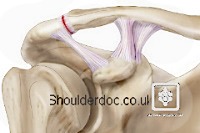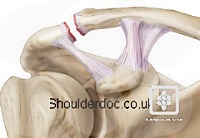 Grade 1 Grade 2
AC joint sprain AC joint ligaments torn only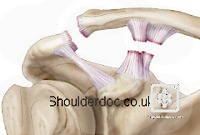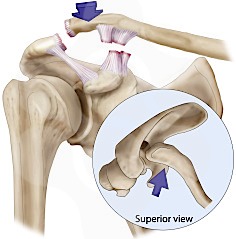 Grade 3 Grade 4
100% dislocation clavicle dislocated backwards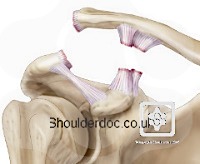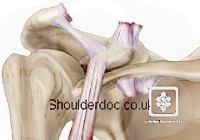 Grade 5 Grade 6
>100% dislocation clavicle under coracoid
Complete Classification: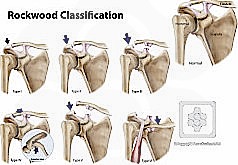 TREATMENT:
Grade 4,5 and 6 injuries often require early surgical reduction and fixation .
Most Grade 1,2 and 3 ACJ dislocations do not require surgery (see links below) and almost all can be managed with:
1. Physiotherapy - to 'retrain' the shoulder muscles
2. Painkillers and anti-inflammatories
Most people fully recover without any problems, however overhead athletes and manual workers may have persistent symptoms and require surgery.
Surgery is indicated if the shoulder is still painful and there is some functional loss at about 3-6 months after the injury.
For Grade 1 and 2 injuries removal of the damaged joint is performed. This is done by keyhole surgery (arthroscopically) and is known as an Arthroscopic ACJ Excision .
A Subacromial Decompression is usually done at the same time.
For Grade 3,4,5 and 6 injuries the collarbone needs to be reduced to the acromion fixed in place. Numerous surgical options exist and your surgeon will discuss this in more detail with you. For more information on the surgical stabilisation procedures Click Here .
---
Also see: