Neuralgic Amyotrophy in Pro Rugby League Players
Neuralgic Amyotrophy in Pro Rugby League Players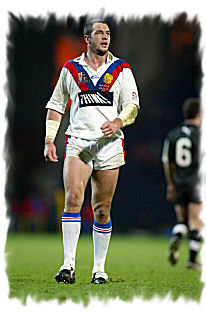 Roosters enforcer Adrian Morley has revealed he overcame the same career-threatening injury as a teenager that Dragons prop Jason Ryles is suffering. And the Great Britain prop urged Ryles to stay positive in the knowledge the ailment can be beaten, and he can still forge out a successful career.
Ryles's playing future is still in doubt because of a nerve injury in his left arm, with initial reports saying he was set to miss the whole 2004 season. But the former Kangaroos forward is hopeful of being back on the field by the middle of the year.
Morley had the same injury as a youngster, but recovered after a short lay-off.
"When I was about 13 or 14, I got a knock on my shoulder and that was it," Morley said. "I was out of the game for about six months, but I was only playing amateur so it didn't really matter.
"It's not something you can do that much about, you just have to wait it out and let it heal."
Like Ryles's, Morley's left arm is flabby and lacking in muscle in parts, and its appearance almost cost him his first professional contract with Leeds in the UK.
"When it happened the doctors said I could have a nerve transplant, where they take a nerve from the ankle and put it in the shoulder," Morley said.
"But the success rate isn't great and it can leave bad scarring so I decided against it.
"When Leeds were interested in me I had a medical and they noticed my shoulder and they weren't going to sign me.
"They said, 'What happened to your shoulder?' and they weren't going to let me play professionally. In the end they consulted a few other doctors, and it worked itself out."
Since he joined the Roosters in 2001, after being enticed to Australia by Cowboys coach Graham Murray, the then Roosters coach and his former coach at Leeds, Morley has become one of the most effective and feared forwards in the premiership despite the disability.
"I've got this far and it hasn't bothered me," he said. "It doesn't affect the way I play. I just can't move it in certain ways, and it looks pretty silly on the beach during summer."
---
Original article in The Sun-Herald, March 7, 2004
Also See: Parsonage-Turner Syndrome