Biceps Tenotomy
In a 'biceps tenotomy' procedure the long head of biceps tendon is released from it's attachment in the shoulder joint, allowing it to fall down into the upper arm and out of the shoulder joint. This removes the damaged, inflamed tissue by releasing it from the joint.
Tenotomy is a quick and simple arthroscopic procedure, but can result in some biceps weakness and occasionally discomfort in the biceps muscle. A 'popeye' biceps deformity may occur.
This is generally minimal and does not inconvenience the sedentary person. It can be a problem for active and athletic people, where a biceps tenodesis is generally preferred.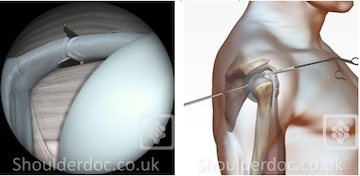 Arthroscopic scissors inserted via small pucture hole in skin and cutting the LHB (arthroscopic view on the right)
The procedure is done arthroscopically as a day case procedure. You should be able to move your arm after the operation, with no period of immobilisation.
---
Also See:
- Arthroscopic tenotomy of the long head of the biceps in the treatment of rotator cuff tears: Clinical and radiographic results of 307 cases
- The cosmetic appearance of the biceps muscle after long-head tenotomy versus tenodesis.
- Arthroscopic Release of the Long Head of the Biceps Tendon
- Long head biceps tenotomy versus tenodesis: A cadaveric biomechanical analysis
- FUNCTIONAL SYMPTOMATOLOGY FOLLOWING BICEPS TENODESIS COMPARED TO BICEPS TENOTOMY OR RUPTURE

---