Hawkins-Kennedy Test
Jo Gibson, 2005
Originally described in the 1980's the Hawkins and Kennedy test was interpreted as indicative of impingement between the greater tuberosity of the humerus against the coraco- humeral ligament, trapping all those structures which intervene. It has been reported as less reliable than the Neer impingement test.
Test
The patient is examined in sitting with their arm at 90° and their elbow flexed to 90°, supported by the examiner to ensure maximal relaxation. The examiner then stabilises proximal to the elbow with their outside hand and with the other holds just proximal to the patient's wrist. They then quickly move the arm into internal rotation.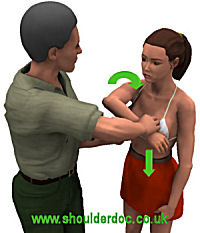 Positive
Pain located to the sub-acromial space
False Positive
- Internal impingement Macdonald et al (2000)
- Bankart 25%
- SLAP 46.1 %
Research
Valadie et al (cadaver study) describe consistent contact between the soft tissues and the coraco-acromialligament and between the articular surface of the rotator cuff and the anterior superior glenoid during the Hawkin' s and Kennedy test. Edelson and Teitz (2000) examined a large number of skeletal specimens and reported contact between the lesser tuberosity and antero- superior glenoid in the Hawkin' s and Kennedy test position.
| | | | | | |
| --- | --- | --- | --- | --- | --- |
| | Sensitivity | Specificity | Accuracy | PPV | NPV |
| Calis et al (%) | 92.1 | 25 | 72.8 | 75.2 | 56.2 |
| Ure et al (%) | 62 | 69 | NA | NA | NA |
Roberts et al(2002) used MRI to identify and measure the changes in anatomic structures in the subacromial space as the arm was moved from complete rest to 160° of forward flexion during the Hawkin's and Neer impingement manoeuvres. The rotator cuff insertion appeared to be in closest proximity to the anteroinferior acromion not at full elevation (Neer sign position) but at 90° offlexion (Hawkin's sign position). They concluded that their data suggested that a clinically positive Hawkin' s sign is consistent with external shoulder impingement.