Complex Shoulder Injury in World Champion Biker
Complex Shoulder Injury in World Champion Biker
Moly gets back in saddle
Article, reprinted with permission from Manx Independent Newspaper:
Dave Molyneux will team up with one of the most successful sidecar passengers in TT history for his Mountain Course return in next year's centenary event.
Rick Long, who partnered Rob Fisher to six wins between 1997 and 2002, will passenger the Manxman in a comeback thought unlikely until recent keyhole surgery set Moly firmly back on the road to recovery.
It initially looked as though Molyneux had managed to avoid serious injury when he walked way from the spectacular backward flip smash at Rhencullen during TT practice four months ago.
But the 11-times winner admits the injuries to his right arm and shoulder in particular have proved particularly troublesome.
"It was excruciatingly painful for a long time after the crash and even now I am still not fit enough to resume work," said Moly this week. "There was considerable worry about nerve damage to the neck and shoulder and initially I had just 20 per cent movement."
Moly also suffered a nasty friction gash to his lower right calf, but that too is finally healing and he is now confident of being fully fit again for the biggest TT festival of all time.
Although Dave was in Noble's Hospital only for a couple of days after the crash, the Regaby ace attended Ramsey Cottage Hospital's minor injuries unit almost every day for 14 weeks for treatment to his leg wound. "There was quite a celebration in there the other week when the course of treatment finally ended," said Moly's wife Gaynor, who wishes to thank general practitioner Dr John Brownsdon in addition to the Cottage Hospital staff for the regular care.
A consultant shoulder and upper limb surgeon named Lennard Funk of the Manchester Sports Medicine Clinic was recommended to him.
"I met Mr Funk for a consultation on the Tuesday of Manx Grand Prix week and he as good as told me I was finished as far as racing was concerned.
"I took along a copy of the TT video so he could see for himself what I needed the strength and movement in my upper body for and how much it all meant to me. He watched it and admitted he had no idea what kind of an event the sidecar TT in particular was. He seemed very interested."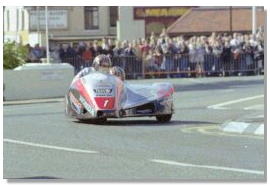 Mr Funk managed to squeeze Dave in for an operation on the Saturday at the end of the same week in which he performed a scapular release.
He used arthroscopic surgery, which was done through two incisions into the shoulder, front and back, in order to remove substantial scar tissue which had built up since the accident on June 1. The shoulder was broken in two places as well as being dislocated.
In order to capitalise on the surgery and regain movement and strength, Dave has been attending Scott Physiotherapy virtually every day for the last few weeks. The latter works closely with IoM Sports Aid Foundation.
He has recently seen a vast improvement in his shoulder. "I now have 100 per cent rotation again and the overall strength is also a lot better. I would say it is at least 85 per cent now and improving all of the time.
I revisited Mr Funk a couple of weeks ago for a check-up and he was very pleased with the progress.
"The operation cost me a fair amount of cash, but I know if I had waited for it to be done on the National Health it would not have been in time to get myself properly fit to contest next year's TT, especially as I require three further signatures to gain my Mountain Course licence."
All being well, Moly hopes to team up with Rick Long for a club meeting at Oulton Park in Cheshire on October 28 to gain one of the signatures required.
The pair won't be astride Moly's regular 600cc Honda F2 outfit as his pride and joy was seriously damaged in the crash and subsequent fire at Rhencullen. He has managed to acquire a Formula One Windle, with the help of Andreas couple Peter and Tracy Lloyd, upon which he is hoping to contest next year's Superside Sidecar World Championship.
"The series is relatively short nowadays and I see no reason why I can't contest the championship on a competitive outfit with an experienced passenger like Rick".
Moly, who will shortly start to build his new F2 Honda-powered outfit for the TT centenary, admits he has attempted to secure Long as his passenger for years, but when previously approached he'd always had prior commitments. Therefore he is delighted that he has finally agreed to passenger him in both the Sidecar World Championship and the TT in 2007.
---

Video of Dave Molyneux
---
Links: