Anterior Shoulder Pain
References: Arab Health Conference, 2014
Anterior shoulder pain is common and more frequent than posterior pain. It is probably easiest to consider the differential diagnoses on an anatomical basis, with specific anatomical pathologies giving rise to specific pain patterns [Bayam & Funk, Am J Orthop, 2011].
In this presentation, I will summarise our work on shoulder pain mapping, concentrating on the common, and also rare, causes of anterior shoulder pain. I will also present an approach to diagnosis that can assist with differentiation and treatment.
Before considering pain patterns, the cause of the pain, it's nature and onset is essential. A traumatic onset offers a host of different diagnoses to an atraumatic, insidious onset. I will only concentrate on atraumatic aetiologies in this presentation.
The conditions to consider and discuss are summarised below, with their specific nature, distribution and aetiologies.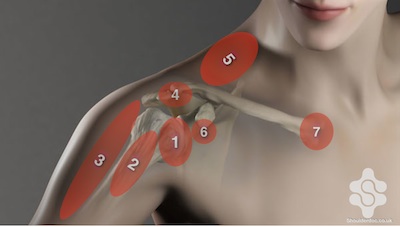 Anterior shoulder pain is common and by careful understanding of the nature and distribution of the pain, one can more easily diagnose, investigate and treat appropriately. If there is uncertainty, then guided diagnostic local anaesthetise injections are extremely beneficial. I also find MRI scans with fat suppression or STIR sequences that enhance areas of inflammation useful in certain circumstances. For more information please see Bayam & Funk, Am J Orthop, 2011.
---