Predictors of Clinical Outcomes of Arthroscopic Rotator Cuff Repair: A Pilot Study
J Turnbull, T Mackenzie, M Walton, P Monga, L Funk
Presented at ASIT Conference, Glascow, 2015.

Aims: To analyse retrospective data on arthroscopic rotator cuff repair over a 3 year period to correlate patient, injury or repair specific factors with post-operative functional outcome scores.
Methods: Data was collected retrospectively for all arthroscopic rotator cuff repairs performed by the senior surgeons between 2010 and 2013 at two sites (n= 375). Outcome scores collected via questionnaires were: Oxford Shoulder Score, Constant-Murley Shoulder Score, Quick DASH score as well as patient satisfaction ratings and pain scores on a visual analogue scale. These were correlated with 12 patient, injury or repair specific factors using SPSS 20.0 for Windows.
Results: Of the 375 patients, 43 responded within the timeframe of this pilot study and were used for analysis. Overall, arthroscopic cuff repair was found to be beneficial in terms of all outcome scores. Factors found to significantly affect outcome scores were: gender, fatty degeneration of the cuff, tendon retraction, transverse tear width and tentatively, the number of bone anchors used during repair.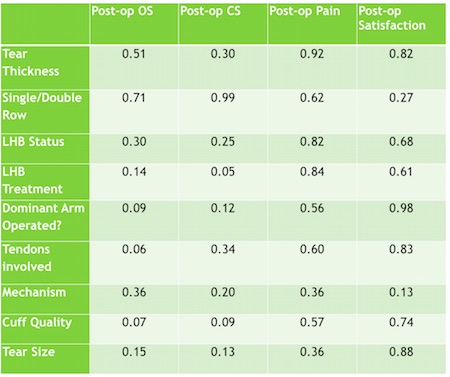 Conclusions: We found significant correlations for gender, tear width, tendon retraction, fatty degeneration and potentially bone anchor use. These correlations warrant further study.
---