Ultrasling ER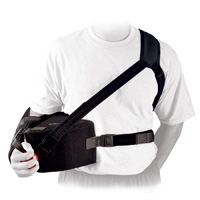 The UltraSling® ER maintains the shoulder and arm in an externally rotated position and provides immobilisation for rotator cuff repairs, capsular shifts, Bankhart repairs, glenohumeral dislocation/subluxation and soft tissue strains/repairs.
£79.20
Buy now
Description
15° and 30° versions to suit your protocol
Comfortable foam pillow for patient compliance
Derotational shoulder strap to keep product in place
Quick release buckles aid application
Additional 15° wedges available to increase external rotation
Three sizes in left and right versions to suit your patients needs
Sizes Available: S-L, fits right or left. Measure elbow crease to base of index finger.
Small - up to 11" (28cm)
Medium - 11-13" (28-33cm)
Large - above 13" (>33cm)
This product is only available for UK & Ireland Delivery. We cannot ship it outside the UK or Ireland