Shoulder Pain - Self Help
Shoulder Pain - Self Help
Lennard Funk, 2012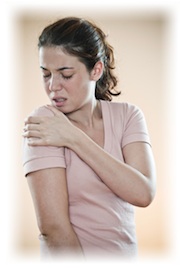 Any pain can affect your quality of life. It can be very disabling. Pain can be physically, mentally and emotionally draining.
Shoulder pain is particularly important, as your shoulder is used for almost all normal daily activities. Even simple grooming, toiling and dressing can be affected by shoulder pain.
What can you do to ease your pain?
NOTE: If your pain is continuously present (i.e. not intermittent) or you have had it for more than one month, then you MUST see a medical professional.
Go see your General Practitioner or a Registered Physiotherapist. Alternatively, you could see Shoulder Specialist directly.
The following treatments are beneficial for common shoulder pain that is not persistent or significantly affecting your sleep.

Correct your posture
Avoid overhead lifting until the pain improves
Take paracetamol when you feel the pain.
Use Anti-inflammatory gel over your affected shoulder. Read the insert for any contra-indications and side-effects before using. Discuss any related conditions you may have with the pharmacist. In particular asthma, stomach ulcers, gastritis or a skin condition over your shoulder
If these measures do not improve your pain within a few days, then you need to see a medical professional. Only a good, thorough clinical examination and relevant investigations can diagnose the cause of your pain and determine the best treatment for your particular problem.
---