Suture Anchors
Suture Anchors are very useful fixation devices for fixing tendons and ligaments to bone. They are made up of:
The Anchor - which is inserted into the bone. This may be a screw mechanism or an interference fit (like a rawlbolt used in DIY). They may be made of metal or biodegradable material (which dissolves inthe body over time).
The Eyelet - is a hole or a loop in the anchor to through which the suture passes. This links the anchor to the suture.
The Suture - is attached to the anchor by through the eyelet of the anchor. It also may be a non-absorbable material or absorbable material. For more on suture materials click here.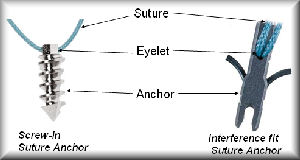 Click image for a larger view
So the anchor inserts to the bone and the suture attaches to the tendon - thus fixing the tendon to the bone via the suture-anchor device (see below):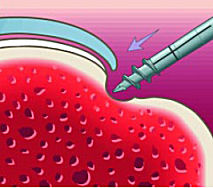 1. Anchor (attached to inserter) being directed to the insertion point on the bone.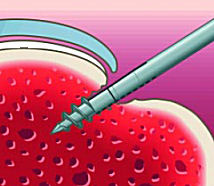 2. Anchor screwed into the bone.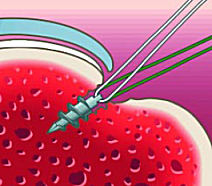 3. Inserter removed, exposing the sutures (attached to the anchor)
---
Guidelines for using suture anchors (Snyder):
Follow the manufacturer's guidelines and be familiar with the proper insertion technique for that implant.
Use drill guides for accurate placement of the implant on the glenoid rim or in the tuberosity. Alternatively, the anchor should be placed in bone under direct vision, with removal of enough soft tissue to verify the anchor position.
The anchor should be inserted through an appropriately sized cannula so that the surrounding soft tissue is protected and does not impede the anchor's insertion.
The surgeon should be aware that the anterior-inferior glenoid has the least margin of error for the placement of stabilization anchors. Similarly, for rotator cuff repairs, the surgeon should know which areas of the humerus
have the strongest and weakest bone. Some anchors and tacks perform well in hard but not soft bone.
The type of suture anchor (eg, a screw-in versus a lodging-type anchor) used will not compensate for inadequate surgical technique (eg, an incorrectly positioned anchor)
The surgeon should have a backup surgical plan should the device fail or not fulfill its function to oppose the tissue to the bone.
Before beginning the procedure, the surgeon should have in place the following:
A variety of implants for different applications and locations, such as devices that might provide better purchase in the glenoid or the tuberosities
A plan to accommodate a loose implant or a broken insertion system
A plan to retrieve the device should it migrate or be positioned incorrectly
---
Useful Links:

Images courtesy of Linvatec, UK