Ultrasound Guided Barbotage
Ultrasound Guided Barbotage
for Calcific Tendonosis Of The Rotator Cuff
J Harris , L Funk & J Brown , 2006
Barbotage therapy is an established technique for the treatment of calcific tendonosis of the rotator cuff.(1,2,3)
It was first described using X-ray machines to guide a needle through the skin to break up the calcification.(4)
With technological improvements modern ultrasound machines allow a skilled operator to readily 'see' the calcification and assess it in 3 dimensions. This avoids x-rays and allows the doctor to place a needle directly into the calcification.
Advantages of Ultrasound guided Barbotage
Outpatient procedure
General anaesthesia not required
Precise localisation of calcification, even tiny
Easily identify the relationship with tendons, bicipital groove, bony structures
Most direct way to the target
Excellent visualisation of the needle tip
Precise advancement of the needle into the calcification
Minimal damage to tendon
Identification of associated conditions : bursitis, tear (rare)
Non ionizing technique (lower risk than x-ray guidance)
What is involved?
Ultrasound guided barbotage therapy is an outpatient treatment. A diagnostic ultrasound scan is performed firstly.
The skin is then marked and sterilized and local anaesthetic is given.
Using the ultrasound image, the needle is guided into the calcification under direct vision. The calcification will then be attempted to be aspirated/withdrawn. To encourage healing the calcification is punctured several times under local anaesthetic. Finally the tendon is bathed in some more local anaesthetic.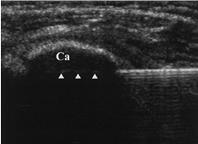 Ultrasound image of needle entering the calcific deposit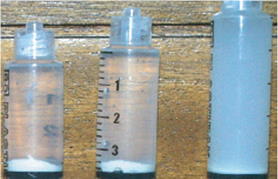 Calcium (white) in syringe after barbotage
Is it safe?
There is a very small risk of introducing infection and if you are allergic you may react to the drugs.
Does it hurt?
It can be a painful procedure, although with local anaesthetic most people tolerate the procedure.
Does it always work?
There is a 60-70% chance of significant or complete improvement in symptoms and return to activities.(2)
What if it fails?
Occasionally 2 treatments are needed at about 6 weeks apart. However about 1/3 of patients may not respond and may ultimately require surgery.
Can I drive afterwards?
You are advised to have somebody drive you home after the procedure as you may be in discomfort afterwards. You can return to driving the following day.
---
REFERENCES
Rima Aina, MD, Etienne Cardinal, MD, Nathalie J. Bureau, MD, Benoit Aubin, MD and Paul Brassard. Calcific Shoulder Tendinitis: Treatment with Modified US-guided Fine-Needle Technique. Radiology 2001;221:455-461.
D.A.T. Silver, P. Dekimpe and T.D. Bunker. Calcific Tendonitis Of The Shoulder; Is There A Place For Ultrasound Guided Barbotage Or Extracorporal Shockwave Therapy As An Alternative To Surgery? Journal of Bone and Joint Surgery - British Volume, Orthopaedic Proceedings. Vol 84-B, Issue SUPP II, 193.
Caroline Parlier-Cuau, Valerie Vuillemin-Bodaghi, M. Wybier, P. Champsaur,J. D. Laredo. Percutaneous Management of Painful Shoulder. Semin intervent Radiol 2002; 19: 197-204.
Comfort TH, Arafiles RP. Barbotage of the shoulder with image-intensified fluoroscopic control of needle placement for calcific tendinitis. Clin Orthop Relat Res. 1978 Sep;(135):171-8