Constant Shoulder Score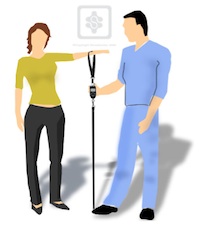 The Constant-Murley Shoulder Outcome Score has become the most commonly used outcome measure for assessing the outcomes of the treatment of shoulder disorders. It is the recommended scoring system of the European Society of Shoulder & Elbow Surgery (SECEC/ESSE).
The Constant Score was first published in 1987 - Reference
It has the benefits of including the pain score, functional assessment, range of motion and strength measures. It has been validated [Conboy et al; Boehm et al.]. However, it is not suitable for Shoulder Instability and a specific tool for Instability should be used (e.g. Walch-DuPlay, Rowe or Oxford Instability) [Bankes & Emery; Conboy et al].
CLICK HERE - For News and Research Articles on Shoulder Outcome Measures