Rehab exercises with the MyRecovery App
Rehab exercises with the MyRecovery App
We use the MyRecovery App at The Arm Clinic to help our patients with their recovery after surgery. It has a powerful tool to include their exercises. Exercises can be added with the supervision of their therapist by selecting the installed exercises or using their phone camera to record videos from within the App.
Below is a guide to assist patients and their therapists:
Add or remove an exercise
The aim of the exercises in the app is to match what each patient is given by their clinical team and to enhance their ability to follow their plan and track their progress.
The Exercise planner is found at the top of the list under the More tab (at the bottom right of the screen).
To the right of each exercise video in the list, tap on the (+) and (-) signs to increase or reduce the number of target repetitions.
Any exercise with the target number of reps set as more than zero will appear in the list of Current exercises and will also be available on the Home page of the app.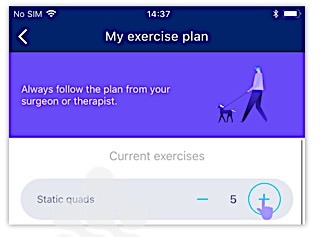 To remove an exercise from the list, tap the (-) sign to reduce the number of target reps to zero.
The exercise will then drop down into the list of Deactivated exercises.

By deactivating and reactivating exercises in a sequence, the order that the exercises are presented in on the Home page can also be changed.

Add a new exercise video
The Add new video feature can be used to complement the exercise videos that are pre-loaded in the app.
The Add new video feature has been developed with patients and therapists and enables you and your therapist to create your own exercise videos to track in the Progress graphs.

Using your phone or tablet, ask your therapist to film you as they instruct you through the steps of the exercise.

The audio will be recorded too and they can also add a note with any particular cautions or instructions, such as how many sets to do each day or to only start doing the exercise when you have reached a certain stage.

Follow the steps described above to find the Exercise planner, under the More tab, and tap the Add new video button at the bottom of the screen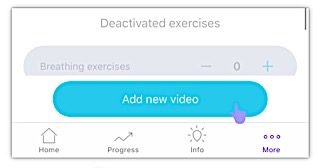 When adding a new video you can choose to either:

1. Use the camera to film a new video on the spot

2. Choose a previously recorded video from your library

To help make the videos as useful and visible as possible, we have set the videos so that they can only be filmed in landscape.

Please note that your videos will remain on your device only and cannot be seen or accessed from anywhere else.

Your clinical team will not be able to see your videos, but they may receive a report including the titles of your exercises and the number of exercise repetitions that you have recorded in your app.
For any questions or suggestions for the app, contact support@myrecovery.ai