Injections
For the Shoulder


Information following Your Injection:
Injections into soft tissues and joints can be very effective in giving pain relief when the tissues are inflamed. The injection that you have had includes a small amount of Steroid or Ostenil that has an anti-inflammatory action and a local anaesthetic, which numbs the area temporarily.

To gain the most benefit from this injection it is important that you rest the joint from any strenuous activity for a few days. You will be able to carry out activities of daily living as normal.
It is normal to feel some increased discomfort in the area for 48 hours after the injection. However if you notice any of the following symptoms: swelling, redness or warmth around the injection site, or you feel generally unwell, please contact your GP or casualty and tell them about this injection.
It is important that you attend your review appointment so that your clinician can assess the effects of the injection and provide you with additional advice as appropriate.


Download Full Information Leaflet
---
Hyaluronan Injections
Injections are regularly used to treat shoulder and elbow pain, as well as being a useful aid to diagnosis. Steroids have traditionally been used for this, but they do have a number of side effects. Hyaluronans (HA) are a new alternative to steroids and offer a number of benefits over steroids.
HA naturally occurs in joints. It acts as a lubricant and shock absorber, as well as providing adequate nutrition to the cartilage.
With wear and tear (joint degeneration) the natural HA in the joint is reduced (Fig. 1). This has led to the development of HA injections (known as viscosupplementation).
| | |
| --- | --- |
| | Fig. 1: Shrinkage of the cartilage proteoglycans and increased spaces with increasing age. |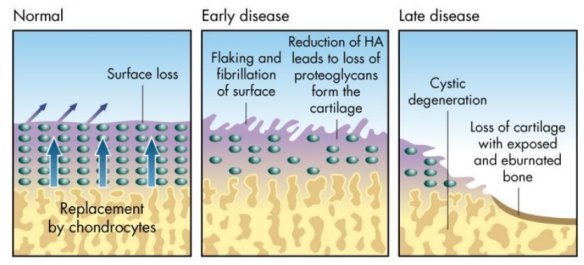 HA injection works by restoring the normal balance between the breakdown and production of HA in the joint. It also coats the pain receptors and inflammatory cells in the joint. These effects mean that it can decrease pain and stiffness of the joint.
It also restores the physiological elasticity to the joint fluid making the joint more mobile and daily activities are made easier.
HA viscosupplementation is beneficial for patients who have experienced or may experience adverse effects with antiinflammatory medications (NSAIDs).
Currently Ostenil (TRB Chemedica) is the only HA licensed for use in the shoulder and elbow in the UK.
It can be mixed with local anaesthetics and injected safely into the shoulder joint. The HA in Ostenil is very pure and is manufactured using a process called fermentation. It contains no animal proteins, which means it is unlikely to cause an allergic reaction. Ostenil has been given to thousands of patients and has not been found to cause any serious side effects.

Download Patient Information Booklet
---
Additional Information:
- Corticosteroid Injections Review
- Steroid Injections in Athletes
- Hyaluronan Background
- Hyaluronans in the Shoulder
- Latest News & Research

---