Reversed Shoulder Replacement
Reversed Shoulder Replacement
Mike Walton
The reverse shoulder replacement has the ball of the shoulder joint where the socket should be and the socket where the ball usually is in normal anatomy. Thus the anatomy is reversed. This may seem very strange, and it is. But this arrangement has some unique mechanical advantages for people who have lost the normal mechanics of their shoulder with massive rotator cuff tears with arthritis.
The rotator cuff is essential for normal shoulder function. In patients with massive tears of the rotator cuff, the shoulder is no longer stabilised and begins to move out of the socket. This subsequently causes the joint to get arthritic. We refer to shoulder with massive rotator cuff tears with arthritis of the glenohumeral joint as "rotator cuff tear arthropathy". These patients will have very poor shoulder range of motion from the torn tendons. They will also have pain from their torn tendons and from their arthritis.
Rotator cuff arthropathy on x-ray: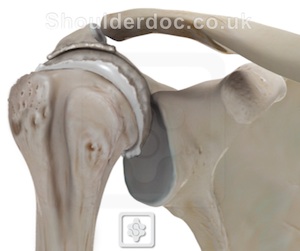 In people with a cuff arthropathy, the glenoid component of a standard anatomical shoulder replacement is likely to wear out quickly and because there is no rotator cuff to control the joint the range of motion and function may not improve much. The reverse shoulder replacement has two biomechanical advantages:
1. Firstly, the reversed cup/ball configuration provides some contraint and prevents the shoulder moving upward when the deltoid (which is not torn) contracts.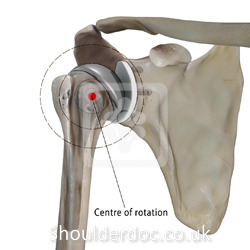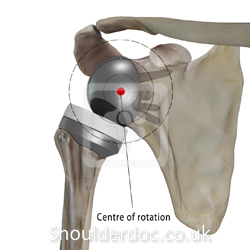 2. Secondly, it moves the centre of rotation of the glenohumeral joint closer to the body and downwards, thus increasing the moment arm of the deltoid muscle. This muscle is the main muscle that lifts your arm in the air. It's function is thus improved by the reverse replacement. The movement of the centre of rotation also significantly reduces the strain placed on the glenoid implant/bone interface and improves stability and longevity of the implant.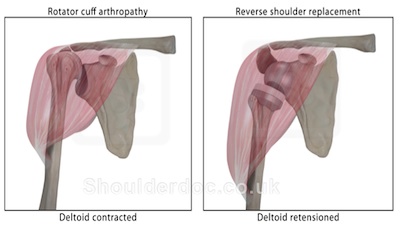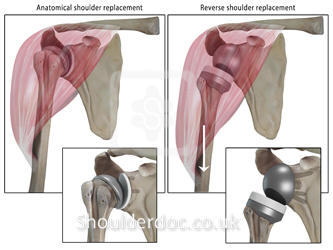 The reverse shoulder replacement has only been available for a few years, and we are therefore only just starting to understand the longer-term outcomes of this implant. Failure rates can be higher than with the anatomical shoulder replacements, but the benefits for cuff arthropathy are much higher. As the reverse shoulder can function without the rotator cuff this implant is also beginning to be used in fracture surgery and revision surgery where the rotator cuff is frequently damaged, with favourable early results. A reverse shoulder replacement operation is a highly technical procedure and is best performed by a surgeon who has experience with this surgery.
Reverse shoulder replacement on x-ray: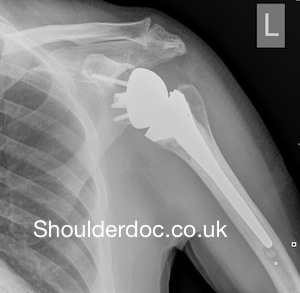 ---
Also see
: