Hyaluronan Injection - Elbow
Hyaluronan Injection - Elbow
Elizabeth is a Professional tennis player. She has an Ostenil hyaluronan injection in her elbow for posterior elbow impingement.
---
I went to see Mr Funk about a left elbow injury which was diagnosed as posterior elbow impingement.
This is some feedback on the treatment given - injection of Ostenil.
After the injection I rested the joint for 1 week so in total I had not played tennis for 7 weeks.
The first week back at training I played for 1 hour each day and served only for two days. I have felt no pain whilst playing or after training.
During matches I am aware of some pain when serving but at the moment it is not enough to prevent me from serving at full pace.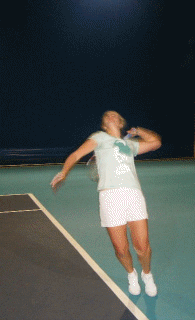 ---
ALSO SEE: