InSpace Balloon for Massive Rotator Cuff Tears
InSpace Balloon for Massive Rotator Cuff Tears
Some massive tears and /or poor tendon and muscle quality will not allow a successful rotator cuff repair. The optimal treatment for massive rotator cuff tears is still not known. There are many treatment options, all with their own benefits and risks. The exact choice of treatment depends on the patient's problems, age, functional requirements and the surgeons's preferences and experience.
One recent development is the InSpaceTM balloon. It is a low risk procedure, but it is not clear whether it is any more effective over traditional treatments. At present (2020) the exact indications for the InSpace balloon are not clearly defined. A large multicentre FDA study is being undertaken in the USA which will hopefully clarify it's indications.
In the UK, NICE recognises that there is limited research at the moment and recommends the implant be used in the context of research - NICE Guidance, 2016.
---
The InSpace™ device is composed of an introducer and a balloon shaped spacer made of a biodegradable polymer which is a widely used material in the medical industry. The spacer is positioned by an arthroscopic procedure in the subacromial space between the humerus head and the acromion. Once positioned, the spacer is inflated with physiological water to allow smooth and frictionless gliding between the shoulder bones (see the diagram below showing the position of the implanted balloon in relation to the bones and muscles).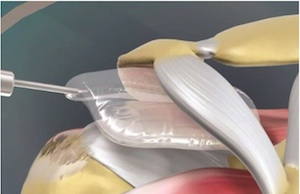 As pain associated with the ruptured tendons may cause abnormal motion and limit rehabilitation, breaking the pain cycle may ease rehabilitation, allow pain relief ,improve shoulder function and potentially eliminate or defer the need for more extensive shoulder surgery. The spacer degrades within 6-12 months.
The surgical procedure of InSpaceTM balloon insertion is similar to other routine rotator cuff surgeries, conducted in an operating theatre, under general or regional anaesthesia using an arthroscopic approach.

The InSpaceTM balloon should not be implanted if you suffer from one the following conditions:
Active or latent infection or of signs of tissue necrosis in your shoulder.
Known allergy to the balloon polymer (polylactide coepsilon caprolactone).
Any blood coagulation disorder, compromised immune system, sever/unstable chronic disease such as heart failure, cirrhosis, chronic renal failure or any other condition that would compromise implantation procedure healing should be carefully considered by the surgeon.
---
---