InSpace Balloon for Massive Rotator Cuff Tears
InSpace Balloon for Massive Rotator Cuff Tears
Some massive tears and /or poor tendon and muscle quality will not allow a successful rotator cuff repair. The optimal treatment for massive rotator cuff tears is still not known. There are many treatment options, all with their own benefits and risks. The exact choice of treatment depends on the patient's problems, age, functional requirements and the surgeons's preferences and experience.
One recent development is the InSpaceTM balloon. It is a low risk procedure and may have some benefits over traditional treatments.
The InSpace™ device is composed of an introducer and a balloon shaped spacer made of a biodegradable polymer which is a widely used material in the medical industry. The spacer is positioned by an arthroscopic procedure in the subacromial space between the humerus head and the acromion. Once positioned, the spacer is inflated with physiological water to allow smooth and frictionless gliding between the shoulder bones (see the diagram below showing the position of the implanted balloon in relation to the bones and muscles).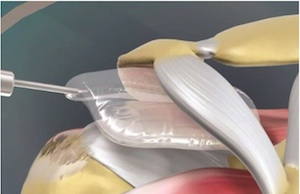 As pain associated with the ruptured tendons may cause abnormal motion and limit rehabilitation, breaking the pain cycle may ease rehabilitation, allow pain relief ,improve shoulder function and potentially eliminate or defer the need for more extensive shoulder surgery. The spacer degrades within 6-12 months.
The InSpaceTM Balloon is intended to decrease pain associated with ruptured tendons following a rotator cuff tear. It has been approved by the European authorities since July 2010.
The surgical procedure of InSpaceTM balloon insertion is similar to other routine rotator cuff surgeries, conducted in an operating theatre, under general or regional anaesthesia using an arthroscopic approach.
At Wrightington Hospital in the UK we are currently conducting a clinical study to compare the Inspace balloon to repair of the rotator cuff for massive tears. This is a randomized, two-arm, prospective, subject blind study. Patients eligible for participations are over 40 years of age with diagnosis of massive rotator cuff tear. Patients will be excluded from participation if they are allergic to any of the devices materials, have severe osteoarthritis, have undergone surgery for the affected shoulder in the past two years and for other specific medical reasons (as per the study protocol).
Previous Clinical studies with the device:
Previous clinical studies which have been conducted with the InSpace™ device include:
A safety and performance study in Slovania of patients with massive rotator cuff tears to assess the InSpace™ device safety and performance. The study began in 2008. 24 patients, mean age 69 years, with persistent pain and functional disability who failed conservative treatment were included in the study and were followed for a period of 5 years.
Results: there were no device related adverse events.
Surgeons found the device easy to use and patients noted improvement in their Total Constant Score, Pain, Activity of daily living and Range of Motion improved over the 5 year follow up period as shown in the graph below: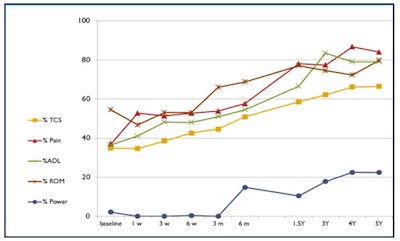 An additional safety and efficacy post marketing study to assess the InSpace™ system device in patients with massive rotator cuff tears is currently ongoing in Israel. The study is a one arm, multi-center study which began in 2010. 55 patients, mean age 68 years, in 5 clinical sites, with persistent pain and functional disability who failed conservative treatment were included in the study and followed for a period of 2 years.
Results: 87% of patients showed improvement as assessed by their Total Constant Score as shown in the graph below: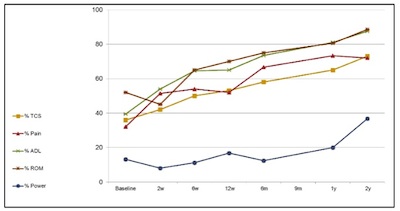 Most adverse events associated with the device were mild and were resolved with conservative treatment. These included synovitis, local swelling and one case of deterioration in shoulder function. One case of inflammatory reaction required device explanation.
Additional clinical studies are undergoing in Italy and Spain at this time.
The potential risks that are present for any shoulder arthroscopic surgery apply to this procedure as well. The most common side effect is of this type of surgery include, but are not limited to: swelling, pain, nerve injury, infection, restriction of movements and discomfort.
As an implant, it is possible that the InSpaceTM balloon may cause tissue reaction and/or sensitivity reaction to the device. There is also a possibility that the device will displace from the original implantation site. If this occurs, the surgeon will decide in an arthroscopic procedure or leave it where it is until complete absorption in the body. These events are unlikely to happen and occur in less than 5% of the treated patients.
The InSpaceTM balloon should not be implanted if you suffer from one the following conditions:
Active or latent infection or of signs of tissue necrosis in your shoulder.
Known allergy to the balloon polymer (polylactide coepsilon caprolactone).
Any blood coagulation disorder, compromised immune system, sever/unstable chronic disease such as heart failure, cirrhosis, chronic renal failure or any other condition that would compromise implantation procedure healing should be carefully considered by the surgeon.
---
---