Massive Cuff Tears
Massive rotator cuff tears are tears greater than 5cm in size and involve at least both the supraspinatus and infraspinatus components of the rotator cuff. They may extend into the subscapularis and teres minor also.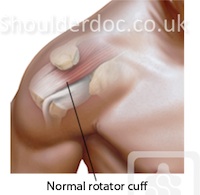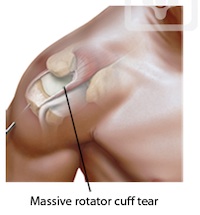 A massive tear is unusual in a young patient (under 60 years of age). They are much more common in older people. It is now recognised that massive tears occur in patients with rotator cuff degeneration and rotator cuff muscle failure (atrophy). The cause of this may be genetic, age-related or a combination of both. A minor fall or injury can lead to final failure of the cuff with extension of the tearing, such that the muscles cannot compensate for the failed tendons. This then leads to weakness and pain of the shoulder. This is often extremely disabling.
In addition to the tendon damage, the muscles also degenerate. This is thought to be due to the disuse of the muscle, ageing and programmed cellular damage (inherited). This process is seen as muscle atrophy (wasting of the muscle) and fatty infiltration of the muscle (replacement of muscle by fatty tissue).
Patients with massive tears that have atrophy and fatty infiltration have poorer clinical outcomes than those who do not have these changes.
Surgical repair of massive rotator cuff tears is not as successful as small or moderate tears (< 5cm). This is because:
the healing of the degenerate tendon is not good
if there is more fat than muscle in the muscle belly, the process of reversal back to muscle does not occur after repair
significant loss of muscle bulk (atrophy) is also irreversible.
The nerve that powers the rotator cuff muscles (suprascapular) may be damaged, as it gets twisted as the muscles retract. This can also lead to more muscle atrophy and fatty infiltration.
This means that even if the tendon can technically be fixed back in place by your surgeon, it may not heal or function properly.
However, it is recommended that a massive tear in an active patient should be repaired as soon as possible, before any irreversible changes occur to the muscle. A repair will help re-establish a force couple of the rotator cuff. The suprascpaular nerve can recover after a repair. Significant functional improvement is seen in patients with massive tears who undergo even partial repair, and therefore, repair attempts are indicated in patients to improve functional outcomes when feasible.
Direct tendon repair of these massive degenerative tears has a high failure rate, in excess of 50% [Habermeyer]. If the fatty infiltration and tear size are too large, then a repair is often futile. In these situations the options are listed below. The decision on which treatment to use depends on: patient age, general medical health, time from injury, functional requirements, surgeon's expertise and available facilities. These include (in order of increasing invasiveness):
Deltoid rehabilitation programme- training the deltoid muscle to take over the functions of the failed rotator cuff muscles. We often combine this with a suprascapular nerve injection for pain relief.
Injections - for pain relief, combined with a deltoid rehabilitation programme. Steroids are a strong anti-inflammatory, but have short-term benefit only and there is a risk further weakening of the tendons with repeated injections. Hyaluronans are safer and may last longer, but are a weaker anti-inflammatory.
Arthroscopic Subacromial Decompression, Debridement and Biceps Tenotomy- this keyhole operation is over 80% effective in resolving pain in people with a massive cuff tear, however it is not effective in improving function or strength of the shoulder. It is more effective when combined with a Deltoid Rehab Programme. [Gartsman; Scheibel et al.]
Inspace Balloon procedure - a new technique which has shown similar results to a debridement procedure. It may be better and equivalent to other techniques, but the research is early and developing. It is a very safe keyhole procedure with low risks.
Augmented Rotator Cuff Repair- using a scaffold patch to reinforce the repair when the tissue quality is poor or a full complete closure is not achieved (partial repair) has been shown to have favourable outcomes in early studies. However, the exact type of patch, indications and technique have not been fully established yet.
Arthroscopic Superior Capsular Reconstruction (SCR) - another new keyhole technique, similar to a cuff repair, but probably better for when the rotator cuff is too poor quality to repair.
Muscle Tendon Transfer procedures - This surgery involves moving a strong muscle from it's original position to the shoulder joint to improve certain functions of the shoulder. This is only used in certain cases, mainly younger people who have demanding jobs.
Reverse Shoulder Replacement - This is indicated for a condition called 'Cuff Arthropathy'. This is when the massive tear is associated with arthritis of the joint. It is only performed on older people, as the lifespan of the replacement is probably limited (approx. 10 years). [Gohlke]
To determine the best treatment for each individual, adequate scans and a thorough examination by an experienced shoulder surgeon are required. The treatment options and results are dependent on many factors (some of which haven't been mentioned above, such as smoking, age, job, compliance with rehabilitation, experience of surgeon and therapist, facilities, etc. etc.). Whichever treatment is opted for results and goals should be realistic and recovery can be slow. Success rates average around 70-80% and it can take up to one year to fully achieve maximal recovery.
Despite all these options, massive irreperable rotator cuff tears are difficult to manage and treat effectively.
Massive cuff tear on MRI scan: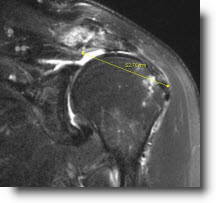 Cuff Arthropathy on x-ray: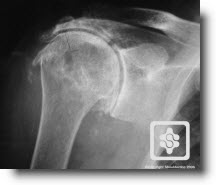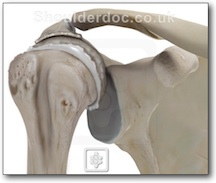 ---
Reference: Laron D. et al. JSES. 2012
---