Augmented Rotator Cuff Repair
Augmented Rotator Cuff Repair
Lennard Funk, October 2020
Also referred to as Rotator Cuff Patches, Biological Scaffolds or Reinforcements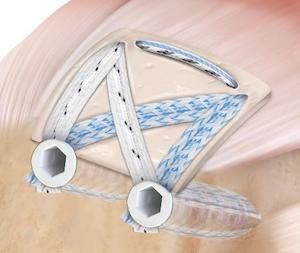 What is it?
Augmentation of rotator cuff repairs involves fixing a biological scaffold to improve the strength of the repair and/or improve the healing of the tendon tear.
The materials that might be used for the scaffold (or patch):

Autograft - from the same patient
Allograft - from a human donor
Xenograft - from another animal, most commonly pig (porcine) or cow (bovine)
Synthetic - man-made

Allograft has been most commonly used and most clinical studies report on results with allograft.
When is it used?
Augmenting rotator cuff repairs is a fairly new procedure and the precise indications have not been well established. Studies have only involved case series and it has not yet been reviewed by NICE (National Institute for Health and Care Excellence). However, over 50% of shoulder surgeons use it for certain rotator cuff tears that they feel may benefit from an augmentation over other treatments [Baldwin et al, 2020]. These usually are tears that may not heal well due to their size, reducibility, quality of the tendon tissue and muscle quality [Karuppaiah & Sinha, 2019]. Augmenting repairs is also done in revision cases.
What is the evidence?
There are thousands of publications on rotator cuff augmentation and soft tissue scaffolds, but most are laboratory and animal studies. Animal studies have shown positive outcomes with good host tissue integration using all types of soft tissue scaffolds. Unfortunately animal models have acute healthy tissue injuries, unlike humans where the cuff tears are often chronic and degenerate.
As such human clinical results for synthetic scaffolds have not been as good as animal studies. Previous xenograft scaffold studies showed tissue reactions when implanted in humans, but newer bovine patches seem to have overcome this.
Human Allograft studies have consistently shown promising results. Unlike other biological scaffolds, no adverse host tissue response has been reported. These also have better mechanical properties than other biological scaffolds.
Is this for me?
Scaffolds do seem to improve the strength of the repair and reduce the retear rate in patients with massive rotator cuff tears. However, the exact indications, scaffold type and long-term benefits are not yet clearly understood.
A lot more research is needed to assess healing, scaffold degradation and host tissue response. High quality randomised controlled studies are needed comparing the common grafts on the market and comparing these to other traditional treatments.
To decide whether this treatment may be of benefit to you, you need to discuss this with your clinician.
---
References:
Baldwin, M.J., Nagra, N.S., Merritt, N., Rees, J.L., Carr, A.J., Rangan, A., Thomas, M., Beard, D.J., Cooper, C., Kottam, L. and Cook, J.A., 2020. The use of a patch to augment rotator cuff surgery–A survey of UK shoulder and elbow surgeons. PloS one, 15(4), p.e0230235.
Karuppaiah, K. and Sinha, J., 2019. Scaffolds in the management of massive rotator cuff tears: current concepts and literature review. EFORT open reviews, 4(9), pp.557-566.
Murthi, A.M. and Lankachandra, M., 2019. Technologies to augment rotator cuff repair. Orthopedic Clinics, 50(1), pp.103-108.
Image courtesy of Arthrex.