OBriens Test
O'Brien's active compression test was primarily developed for assessment of Acromioclavicular joint pathology following a patient's demonstration of what reproduced their shoulder pain. O'Brien noted in a series of patients it was also excellent for detecting labral pathology.
Test
The patient is instructed to flex their arm to 90° with the elbow fully extended and then adduct the arm 10-15°medial to sagittal plane. The arm is then maximally internally rotated and the patient resists the examiner's downward force. The procedure is repeated in supination. The O'Brien Test is designed to maximally load and compress the ACJ and superior labrum. For maximal results the authors stress that the patient should resist the examiner's downward force rather than the examiner resisting forward flexion.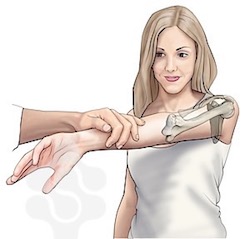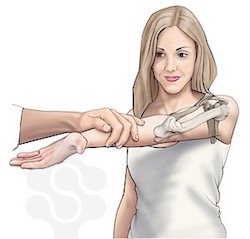 Positive
Pain elicited by the fIrst manoeuvre is reduced or eliminated by second.
ACJ pain =ACJ
Pain or clicking deep in the GHJ = labral
Arthroscopy revealed that the test position (90° forward flexion, 10-15° adduction and maximum internal rotation) displaces the biceps tendon medially and inferiorly therefore putting tension on the bicipitallabral complex. A secondary shear is created in the glenoid and labrum. In an unstable SLAP lesion tension from the biceps tendon from this shear, compression from capsular windup, or both creates an internal mechanical derangement and displacement that accounts for the painful clicking that patients experience. For a positive test the patient MUST report a significant decrease in symptomology in the supination test position. Cadaver studies (Parentis et al 2004) have clarified contact between the lesser tuberosity, subscapularis tendon and superior aspect of the glenoid and labrum in the internally rotated position.
Cadaver studies examined the anatomical basis of the ACJ component of the test. They revealed that the highest compressive pressure was generated in the test position. The greater tuberosity elevates the relatively depressed acromion and locks and loads the ACJ. Full supination relaxed the joint by virtue of the greater tuberosity moving out of the way.
The following results are based on O'Brien's prospective study of 268 patients.
| | | | |
| --- | --- | --- | --- |
| | Sensitivity | Specificity | NPV |
| Labral | 100% | 98.5% | 100% |
| ACJ | 100% | 96.6% | 100% |
Research
Compared to:
Sensitivity
Specificity
NPV
Stetson (2002)
54%
31%
50%!
Guanche (2003) (For Labral)
63%
73%
Chronopoulos E(2004) (For ACJ)
41%
95%
>94%