ALPSA Lesion
ALPSA = Anterior Labral Periosteal Sleeve Avulsion)
The anterior labro-ligamentous complex rolls up in a sleeve -like fashion and becomes displaced medially and inferiorly, "the medialised Bankart lesion".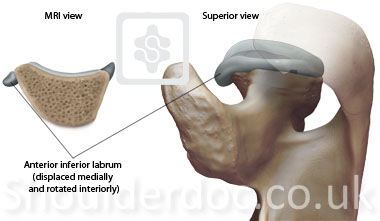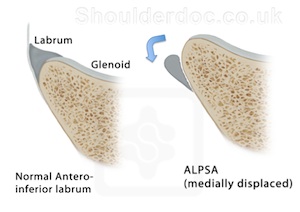 ALPSA lesions probably have a higher risk of redislocation than undisplaced Bankart tears, as the normal bumper and capsule that stabilise the front of the shoulder are displaced and the anterior glenoid is deficient of a capsule and labrum. Our experience with ALPSA lesions is that we prefer to repair them early, before they heal into a poor position. Later repairs require moving the poorly healed labrum back to it's correct position.

ALPSA lesion on the left and MR-Arthrogram on the right showing an ALPSA lesion (arrows):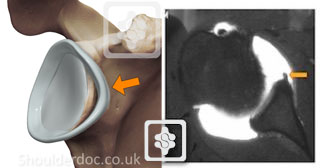 ALPSA seen at arthroscopy. On the left the anterior glenoid labrum is abscent. On the right the scope is in the anterosuperior portal and the labrum can be seen to be displaced and healed medially on the glenoid neck: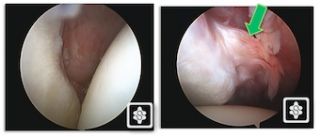 Video of ALPSA Lesion reduced and repaired arthroscopically:


---
Reference: Nevasier. Arthroscopy. 1993
---