Hill-Sachs Lesion
Hill-Sachs lesion = a dent in the back of the humeral head which occurs during the dislocation as the humeral head impacts against the front of the glenoid.
Described in 1940 by two American radiologists, Harold Arthur Hill (1901-1973) and Maurice David Sachs (1909-1987).
The depth of the lesion reflects the amount of damage to the opposite side of the joint—the anterior capsule and the labrum. Therefore larger Hill-Sachs lesions are associated with higher risks of recurrent dislocations.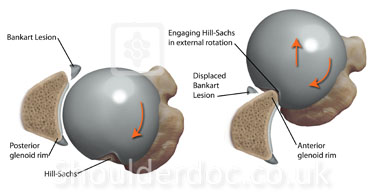 Treatment:
Small lesions (<1/8th of the area)- don't need any treatment
Medium lesions (<1/8th to 1/4) - can be treated by an arthroscopic remplissage procedure, where the defect is 'filled in' with the posterior capsule and rotator cuff.
Large lesions (>1/4) - are best filled in with either bone or a metal implant (depending on surgeon preference). This is very rare.
---
References: