Safe Zones for Shoulder Rehab
Safe Zones for Shoulder Rehab
The safe zone positions are areas in space where it is safe to move your arm, preventing significant stress on the surgical repair or injury. Standard safe zones are given below, but your therapist or surgeon may prescribe a different safe zone for you depending on your injury or surgical repair. If you have had surgery, the safe range of motion may be in the surgical operation note (where the surgeon has tested the strength of the surgical repair at the end of the operation to determine the 'safe zones')

Notice where your elbow is in relation to your shoulder blade. As you move your elbow--and therefore your shoulder--up and down (figure 1) or back and forth (figure 2), it goes through three zones:
Zone A is the safest. You can move in this zone as guided by your therapist and surgeon.
Zone B is next safest. You should be careful moving in this zone without supervision and guidance.
Zone C is the least safe and must be avoided. Your shoulder is most vulnerable to stressing a repair or an injury when your elbow is in this zone.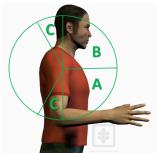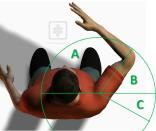 In moving your shoulder up and down (figure 1) or back and forth (figure 2), try to keep your elbow in the A zone. These positions place the least stress on your shoulder--and make your motions efficient--for activities, exercise, and rehabilitation. When your elbow is in the B zone, there is moderate stress on your shoulder. Having your elbow in the C zone places your shoulder under the most stress. Avoid motions in the C zone, especially if you have an injured shoulder.
---