Long head of biceps
Fortunately, since the long head of biceps is the primary reference point of shoulder arthro­scopy, abnormalities are seen in only some 10 per cent of cases. In patients with impinge­ment, there may be fraying or tendinitis (Figure 6.1), often associated with changes in the rotator cuff. Some patients who have partial or full thickness rotator cuff tears may have debris hanging down into the joint obliterating the view of the long head of biceps (Figure 6.2). In some patients, the tendon may be missing following rupture. In approximately 3 per cent of patients, the long head of biceps will have a synovial mesentery, either complete (Figure 6.3), or represented by a strand (Figure 6.4), which should be considered as a variant of the norm.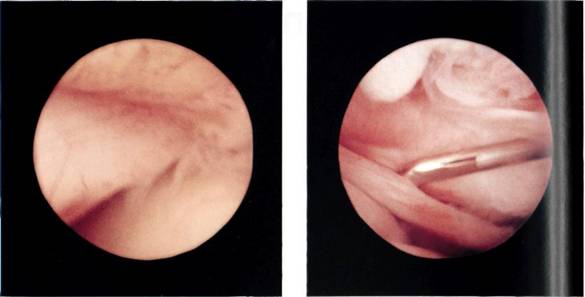 Figure 6.1 Fraying of the biceps tendon can be seen at the impingement point, c = cuff, b = biceps, h = humeral head.
Figure 6.2 Sometimes the biceps tendon cannot be seen if tags from a rotator cuff tear hang down and hide it.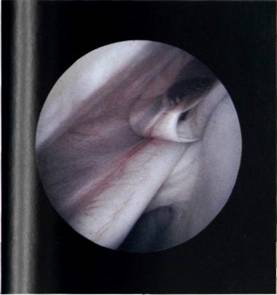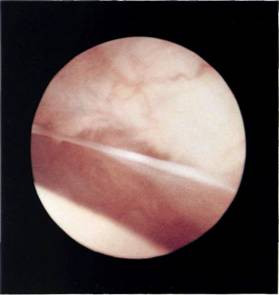 Figure 6.3 The biceps tendon may be enfolded by a mesentery. This is not an abnormal finding but a variation of normal.
Figure 6.4 The mesentery to biceps tendon may be represented by a single strand which could be taken for an adhesion.